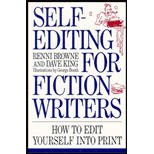 I just finished reading
Self-Editing for Fiction Writers.
Can I recommend this book to everyone I know? And everyone you all know? I want to shout it's praises from the rooftops. In fact, were there no police to worry about, I'd find a ladder and do that right this second.
At this moment I'm going through and working my dialogue tags, checking for -ly endings and looking for patronizing passages. I'm so happy to be revising with a purpose! I mean, believe me, I understand and have seen first-hand the progress of revision. But still, going through and reading to look for tricky sentences, messed up commas and plot-flaws can only be done so many times before your eyes cross over.
Now I'm reading and revising with purpose, making changes that matter. Already I'm transofrming tricky passages and fixing troubled dialogue. In other words, I'm feeling hella productive.
But, yes. So I had a
little, teensy, weensy
little writing
meltdown
the other day. Real tears and everything! Just a little overwhelmed. It's very hard to face something that you've put SO much work into and realize that your writing barely matters. What matters the most (pathetically) is one stupid little letter. I keep hearing the same thing on my queries - "I'd put that book right back on the shelf. I'd never read that." WHICH IS DUMB. Especially when those people see my first 250 words and fall in love. Ugh. Speaking of the first 250 words... I'll be posting that soon. :) Grumble, grumble, query letter, grumble.